My Go-To Dinner For Two! No sitter? No reservations? No problem!
Valentine's Day is coming up and whether you are all about the day or you would just rather forget it- chances are you have someone in your life who might want to know how you feel about them. Give them a high 5, drop them a real hand written note OR cook them a meal. Nothing fancy, just a little something you can both enjoy over a bottle of wine and some good conversation.
Unspoken expectations kill romance…..So talk about what you want to do, what you can do, before Valentine's Day!
When it comes to this day- it helps to have a conversation beforehand with the person you celebrate to discuss expectations. Don't be the woman who is hoping for a romantic scene when you told your guy to just surprise you. Experience tells me this never works. Plus, if you are planning on going out, think about reservations and a babysitter. If you have waited until the last minute chances are you are out of luck in both departments.
Don't take that chance! Make an easy restaurant-quality meal at home. Put your kids in bed, make a meal together and enjoy the slow pace of a night IN. I am pairing each of these with one of my favorite local wines from
Mallow Run Winery
in Bargersville, Indiana.
What we like to do is recreate meals we have enjoyed while traveling. Meals that stay on your mind that you crave for weeks or months after the fact. But here is my criteria: they need to be easy and with few ingredients. Here is my go-to dinner for two!
Watch both of my segments with Tracy and Annessa on IndyStyle HERE
Read more about these recipes on B1057.com~ Sean Copeland and I talked all about our ideal Valentine's Day on his show this week!
Spicy Tomato and Goat Cheese Dip
Use a small baking dish for this
3 C of fire roasted tomato sauce (if you can only find diced tomatoes just puree them) or crushed tomatoes from Red Gold Tomatoes
1-2 tsp of red pepper flakes (depends on the heat you want)
4 oz of herbed goat cheese log (you can find this in the specialty cheese area of most stores)
In a small baking dish add the tomato sauce and red pepper flakes. Top with the goat cheese sliced or crumbled.
Bake at 350 degrees until bubbly and melted, about 15 minutes.
Serve with sliced baguette.
Sauteed Beef in White Wine and Rosemary
Serve over a nice risotto or smashed red potatoes, and a side of maple sauteed brussel sprouts.
½ pound sirloin steak
1 TB all purpose flour
4 TB olive oil
2 TB butter
4 garlic cloves, thinly sliced
1½ TB chopped fresh Rosemary
1 C dry white wine
salt/pepper
Thinly slice the beef.
Toss in a bowl with the flour, salt and fresh ground pepper.
Heat 1 tablespoon of the olive oil and the butter in a heavy skillet over medium high heat.
Saute steak in 2 or 3 batches until no longer pink on the outside, about 2 minutes per batch, adding another tablespoon of oil if needed.
Transfer to plate.
Saute garlic and rosemary in the same pan in remaining oil over medium heat until golden, 1 to 2 minutes.
Add wine and salt and pepper (to taste) and boil, scraping up browned bits, until reduced by half. Return beef with juiced to the skillet and heat through.
Dessert doesn't have to be big and fussy. After a nice meal don't you just want just a bit of something sweet? Pair these simple dessert shooters with a local wine like Mallow Run's sparkling Signature or in today's case: Blackberry Winter. This dessert wine is made entirely with blackberries grown about 20 minutes from the winery! These little pint-sized desserts are easy to assemble and drizzled in the chocolatey goodness of Best Boy & Co hot fudge. A little good goes a long way!
Hot Fudge and Pound Cake Dessert Shooters
Layer each item in your desired order in decorative juice sized glasses, shot sized glasses or in small bowls.
Excellent served with a local dessert wine like Mallow Run Signature Traminette, Blackberry Winter or Crema Dolce from French Lick Winery.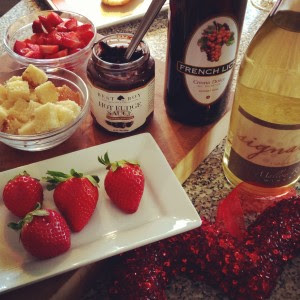 Original Parents Night Out post HERE