I love good stories. Even better- I love happy endings. This story isn't over yet and frankly, the journey to the point in time where they are now IS the story. It IS the happy ending.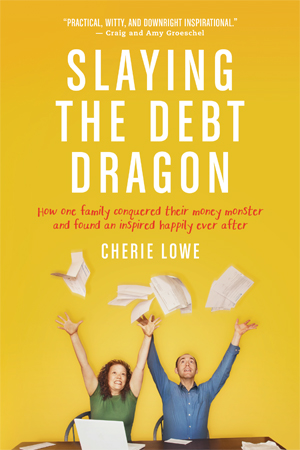 Local writer and busy mom Cherie Lowe and her husband Brian have been on a path to ridding themselves of over $127,000 in debt and all roads have led here- to their book Slaying the Debt Dragon, coming January 1, 2015. Aptly timed, this is a day when many reflect on the positive financial changes they want to make in the new year. They want to learn how to slay debt, too.
This book will start you on your own positive path.
No, this is not a sponsored post and no, I am not being paid to say this. I ordered my book online here and paid just like everyone else.I believe in the message that the Lowe's shared, their life lain bare for all of us to see.It takes a lot of courage to get real about your finances.I know Cherie in real life and her friendship has been one that I treasure.She and her family are great assets to our community- plus I like her ????
Since 2008, Cherie Lowe has been confidently wearing a plastic crown and encouraging others to dream big dreams.
Together with her husband, Brian, Cherie paid off $127,482.30 in a little under four years. She scribed the ups and downs of their debt-slaying journey on her popular website, www.QueenOfFree.net.
A graduate of Asbury University, Cherie strongly believes that something can come from nothing and that there is always a way for her readers to simplify their lives and their budgets. More than anything, through speaking and written word, Cherie longs for others to know that there is hope for getting their finances under control. Her family's story has appeared in the Wall Street Journal, Yahoo Finance,Redbook magazine, AOL Daily Finance, NBC News, and more. Cherie and Brian reside in Greenwood, Indiana, along with their daughters, Anna and Zoe.
Learn more from Cherie Lowe AKA The Queen of Free HERE
Join her Thunderclap social campaign HERE
Please reach out to Cherie on Twitter at @thequeenoffree if you have any questions!